Indian Institute of Technology Madras, Chennai, India

Brief About the Testbed:
The layout of the test bed developed in the laboratory is illustrated in Fig. In general, renewable energy-based distributed generation (DG) can be divided into two broad classes. In this figure, the first category belongs to those which generate ac power of variable magnitude and frequency, such as wind energy, tidal waves, micro-turbines, etc. The second category belongs to those which generate dc output, such as PVs, fuel cells, etc. In the figure, this is represented by PV units. In an ideal and practical DG energy park, the two types of generation should be controlled and integrated intelligently. This requires coordination between the generations from various renewable energy sources. From a power electronics point of view, at the primary stage, we require two types of converters, i.e., ac to dc converter and dc to dc converter, with their dc output to a common dc bus. This is indicated by the dc grid in Fig. . This common dc voltage is further converted to ac voltage of desired magnitude and frequency compatible with the ac grid. At this stage, a dc to ac converter is required. However, before connecting this ac output from the dc to ac converter, proper synchronizing and interfacing circuitry are required. In case the conditions are abnormal on the grid side, the microgrid system must be operated in islanded mode.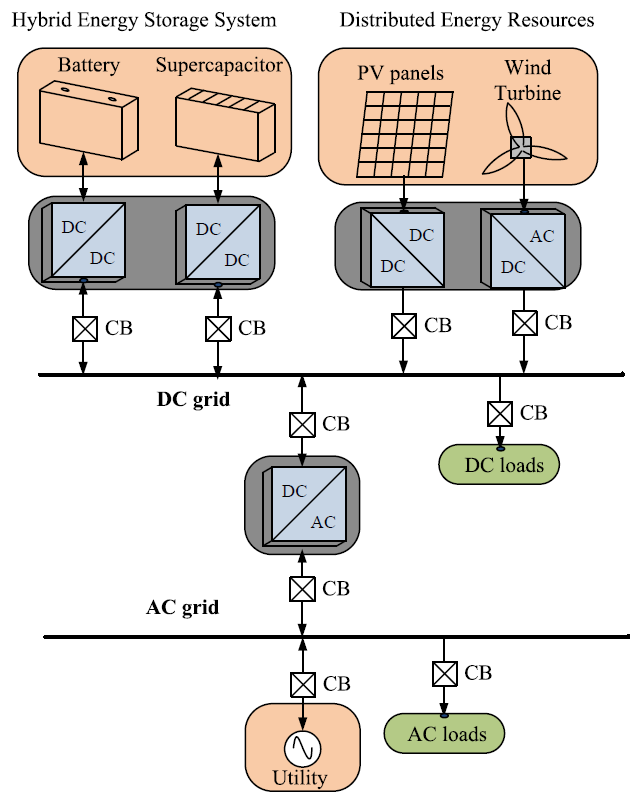 Fig. An integrated microgrid system with various renewable energy sources and storage units.